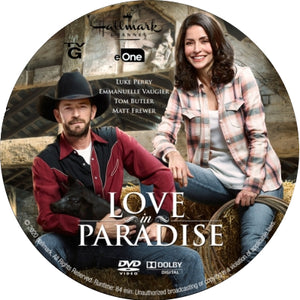 Love In Paradise [DVD] [DISC ONLY] [2016]
When a Western movie star is forced to spend a PR weekend at a dude ranch, his fans are horrified to learn he's actually a city slicker who's afraid of horses and has never been west of the Hudson River.
Product Details
Actor(s):  Luke Perry, Emmanuelle Vaugier
Writer(s):  Neal H. Dobrofsky, Tippi Dobrofsky
Director(s):  Sean McNamara

Format: DVD, Widescreen
Manufacturing Attributes:  Manufactured On Demand*
Language: English
Region: 0 (Worldwide)
Aspect Ratio:  1.78:1 (16:9 SD-Standard Definition 480p)
Color:  Color (SD)
Runtime:  1 hour and 24 minutes (84 mins USA)
Sound Mix:  2.1 Dolby Digital Surround Sound
Number of discs: 1
Rated:  NR

Studio:  Hallmark

Release Date:  January 2, 2016
 PLEASE NOTE:  This item is not an official studio release, as normally found in big box stores or mass merchant retailers, and therefore MAY include broadcast station watermark or other pertinent pop-up/scrolling station information pertaining to the actual broadcast station program was originally intended to be shown on. 
*When sold by Seaview Square Cinema, this product will be manufactured on demand, at the time of your order, using the highest of quality DVD-R/+R, DVD-R/+R DL, or BD-R/XL recordable media. Seaview Square Cinema's standard return/exchange policy will apply.
This product was added to our catalog on Friday, March 4, 2022
---
我們也推薦
---