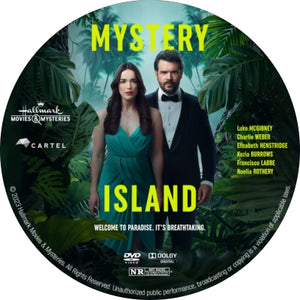 Mystery Island [DVD] [DISC ONLY] [2023]
London Police psychiatrist Dr. Emilia Priestly needs to take a relaxing break from her stressful job, so her wealthy friend, Baroness Jane Alcott, invites her to Mystery Island, an immersive murder-mystery-themed resort hosting a special retreat for the original investors. As the mystery game begins, tragedy strikes: John Murtaugh the resort's reclusive founder, is murdered. The visitors are confined to the island as local detective Jason Trent investigates the case. Once Emilia proves her innocence, she makes use of her special skills to help Jason find the murderer. The lines between game and reality are blurred as they unravel the web of romance, revenge, and betrayal behind the resort, its guests, and its elusive founder.
Product Details
Actor(s):  Elizabeth Henstridge, Charlie Weber
Writer(s):  John Christian Plummer

Director(s):  Nicholas Humphries

Format: DVD, Widescreen
Manufacturing Attributes:  Manufactured On Demand*
Language: English
Region: 0 (Worldwide)
Aspect Ratio:  1.78:1 (16:9 SD-Standard Definition 480p)
Color:  Color (SD)
Runtime:  1 hour and 24 minutes (84 mins USA)
Sound Mix:  2.1 Dolby Digital Surround Sound
Number of discs: 1
Rated:  NR

Studio:  Hallmark

Release Date:  September 29, 2023
 PLEASE NOTE:  This item is not an official studio release, as normally found in big box stores or mass merchant retailers, and therefore MAY include broadcast station watermark or other pertinent pop-up/scrolling station information pertaining to the actual broadcast station program was originally intended to be shown on. 
*When sold by Seaview Square Cinema, this product will be manufactured on demand, at the time of your order, using the highest of quality DVD-R/+R, DVD-R/+R DL, or BD-R/XL recordable media. Seaview Square Cinema's standard return/exchange policy will apply.
This product was added to our catalog on Wednesday, October 18, 2023
---
我們也推薦
---