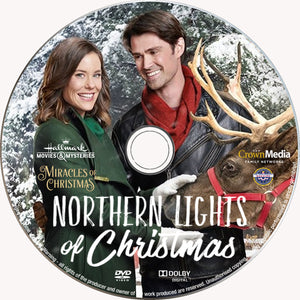 Northern Lights Of Christmas [DVD] [DISC ONLY] [2018]
Zoey Hathaway has been working towards her lifelong goal of being a pilot for years, but everything is thrown off-course when she unexpectedly inherits a reindeer farm, along with the dangerously handsome ranch hand Alec Wynn. Now buried in taking care of reindeer and all the Christmas responsibilities, Zoey thinks life has delivered her a strange and cumbersome blow, and she isn't sure about Alec, who has his own ideas how best to run things. Alec, who has never had many people have faith in him, opens up when Zoey invests trust in him, and the two find themselves falling for each other. Could they both find happiness in the most unlikely of circumstances right before Christmas?
Product Details
Actor(s):  Ashley Williams, Corey Sevier
Writer(s):  James Iver Mattson, B.E. Brauner

Director(s):  Jonathan Wright

Format: DVD, Widescreen
Manufacturing Attributes:  Manufactured On Demand*
Language: English
Region: 0 (Worldwide)
Aspect Ratio:  1.78:1 (16:9 SD-Standard Definition 480p)
Color:  Color (SD)
Runtime:  1 hour and 24 minutes (84 mins USA)
Sound Mix:  2.1 Dolby Digital Surround Sound
Number of discs: 1
Rated:  NR

Studio:  Hallmark

Release Date:  December 15, 2018
 PLEASE NOTE:  This item is not an official studio release, as normally found in big box stores or mass merchant retailers, and therefore MAY include broadcast station watermark or other pertinent pop-up/scrolling station information pertaining to the actual broadcast station program was originally intended to be shown on. 
*When sold by Seaview Square Cinema, this product will be manufactured on demand, at the time of your order, using the highest of quality DVD-R/+R, DVD-R/+R DL, or BD-R/XL recordable media. Seaview Square Cinema's standard return/exchange policy will apply.
This product was added to our catalog on Saturday, June 24, 2023
---
我們也推薦
---