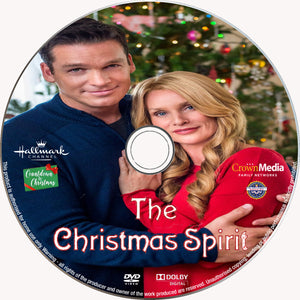 The Christmas Spirit [DVD] [DISC ONLY] [2013]
Charlotte Hart, a distinguished journalist, is spending time with her family over the holidays when a real estate developer approaches their small town with quite an offer. Skeptical and looking for the real scoop, Charlotte drives to see the real estate head honcho to question him. While she's en route, she gets into a terrible car accident and wakes up in the hospital only to realize that her body is in a coma, but her spirit is very much awake. She meets another spirit, who just happens to be the greedy developer. It turns out that he was on the other end of the accident and he too is in a coma. With only a few days left before the town votes on the development, Charlotte must try to change the minds of the developer and the town, but that is no easy task when no one can see or hear her. Will her voice be heard?
Product Details
Actor(s):  Nicollette Sheridan, Bart Johnson
Writer(s):  Jack Angelo, Nicollette Sheridan

Director(s):  Jack Angelo

Format: DVD, Widescreen
Manufacturing Attributes:  Manufactured On Demand*
Language: English
Region: 0 (Worldwide)
Aspect Ratio:  1.78:1 (16:9 SD-Standard Definition 480p)
Color:  Color (SD)
Runtime:  1 hour and 28 minutes (88 mins USA)
Sound Mix:  2.1 English Dolby Digital Surround Sound
Number of discs: 1
Rated:  NR

Studio:  Hallmark

Release Date:  December 1, 2013
PLEASE NOTE:  This item is not an official studio release, as normally found in big box stores or mass merchant retailers.
*When sold by Seaview Square Cinema, this product will be manufactured on demand, at the time of your order, using the highest of quality DVD-R/+R, DVD-R/+R DL, or BD-R/XL recordable media. Seaview Square Cinema's standard return/exchange policy will apply.
This product was added to our catalog on Sunday, April 9, 2023
---
我們也推薦
---