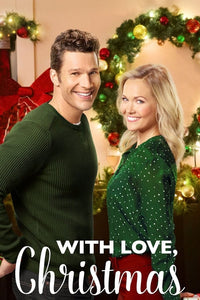 With Love, Christmas [DVD] [DISC ONLY] [2017]
Advertising execs Melanie Welsh and Donovan Goodwin disagree on a cellphone Christmas commercial they're pitching. He says his sleek design will win over the client but she knows it lacks holiday spirit.
Product Details
Actors:  Emilie Ullerup, Aaron O'Connell
Writers:  Marcy Holland, Danni Hodson

Director(s):  Marita Grabiak
Format: DVD, Widescreen
Manufacturing Attributes:  Manufactured On Demand*
Language: English
Region: 0 (Worldwide)
Aspect Ratio:  DVD Format - 1.78:1 (16:9 SD-Standard Definition 480p)
Color:  Color (SD)
Runtime:  1 hr and 26 mins (86 mins USA)
Sound Mix:  2.1 Dolby Digital Surround Sound
Number of discs: 1
Rated:  TV-G

Studio:  Hallmark

Release Date:  November 22, 2017
PLEASE NOTE:  This item is not an official studio release, as normally found in big box stores or mass merchant retailers, and therefore MAY include broadcast station watermark or other pertinent pop-up/scrolling station information pertaining to the actual broadcast station program was originally intended to be shown on. 
*When sold by Seaview Square Cinema, this product will be manufactured on demand, at the time of your order, using the highest of quality DVD-R/+R, DVD-R/+R DL, or BD-R/XL recordable media. Seaview Square Cinema's standard return/exchange policy will apply.
This product was added to our catalog on Tuesday, February 16, 2021
---
我們也推薦
---