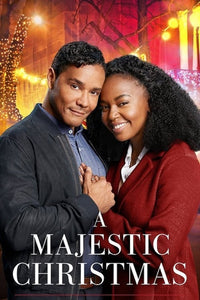 A Majestic Christmas [DVD] [DISC ONLY] [2018]
Christmas in the charming town of Briar Falls will be bittersweet this year when architect Nell goes back to her hometown having been given the job of turning the historic Majestic Playhouse into a modern multiplex, much to the town's objections. The Playhouse has been home to their annual Christmas tableaux, which will now have to end after a long and historic tradition to the town. This job is Nell's first promotion, and one she wishes she hadn't been chosen for, especially when she meets the new owner of the theater, Connor, whose vision and ideas clash with Nell's. Since Connor hasn't had much experience celebrating Christmas, Nell hopes that if she can give him a crash course in Christmas during the town's Twelve Day Festival, that he might just change his mind about modernizing the Majestic.
Product Details
Actor(s):  Jerrika Hinton, Christian Vincent
Writer(s):  Judith Berg, Sandra Berg

Director(s):  Pat Kiely

Format: DVD, Widescreen
Manufacturing Attributes:  Manufactured On Demand*
Language: English
Region: 0 (Worldwide)
Aspect Ratio:  1.78:1 (16:9 SD-Standard Definition 480p)
Color:  Color (SD)
Runtime:  1 hour and 24 minutes (84 mins USA)
Sound Mix:  5.1 Dolby Digital Surround Sound
Number of discs: 1
Rated:  NR

Studio:  Hallmark

Release Date:  December 2, 2018
 PLEASE NOTE:  This item is not an official studio release, as normally found in big box stores or mass merchant retailers, and therefore MAY include broadcast station watermark or other pertinent pop-up/scrolling station information pertaining to the actual broadcast station program was originally intended to be shown on.
*When sold by Seaview Square Cinema, this product will be manufactured on demand, at the time of your order, using the highest of quality DVD-R/+R, DVD-R/+R DL, or BD-R/XL recordable media. Seaview Square Cinema's standard return/exchange policy will apply.
This product was added to our catalog on Saturday, August 12, 2023
---
我們也推薦
---