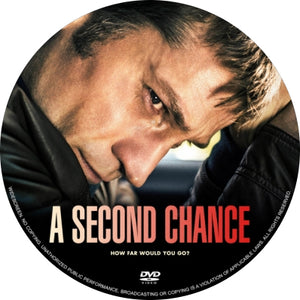 A Second Chance [ALSO KNOWN AS En Chance Til] [DVD] [DISC ONLY] [2014]
Detectives and best friends Andreas and Simon lead vastly different lives; Andreas has settled down with his beautiful wife and son; while Simon, recently divorced, spends most of his waking hours getting drunk at the local strip club. But all that changes when the two of them are called out to a domestic dispute between a junkie couple, caught in a vicious cycle of violence and drugs. It all looks very routine – until Andreas finds the couple's infant son, crying in a closet. The usually collected policeman finds himself confronted with his own powerlessness and is shaken to his core. As Andreas slowly loses his grip on justice, it suddenly becomes up to the unruly Simon to restore the balance between right and wrong.
Product Details
Actor(s):  Nikolaj Coster-Waldau, Ulrich Thomsen, Nikolaj Lie Kaas, May Andersen
Writer(s):  Anders Thomas Jensen

Director(s):  Susanne Bier

Format: DVD, Widescreen
Manufacturing Attributes:  Manufactured On Demand*
Language: Danish, English Subtitles

Region: 0 (Worldwide)
Aspect Ratio:  1.78:1 (16:9 SD-Standard Definition 480p)
Color:  Color (SD)
Runtime:  1 hour and 43 minutes (103 mins USA)
Sound Mix:  2.1 Dolby Digital Surround Sound
Number of discs: 1
Rated:  NR

Studio:  Nordisk Film

Release Date:  March 7, 2015
 PLEASE NOTE:  This item is not an official studio release, as normally found in big box stores or mass merchant retailers.
*When sold by Seaview Square Cinema, this product will be manufactured on demand, at the time of your order, using the highest of quality DVD-R/+R, DVD-R/+R DL, or BD-R/XL recordable media. Seaview Square Cinema's standard return/exchange policy will apply.
This product was added to our catalog on Saturday, August 19, 2023
---
我們也推薦
---