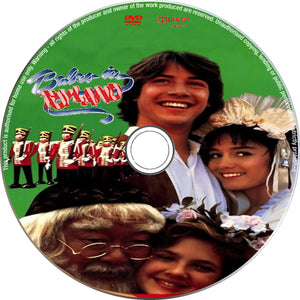 Babes In Toyland [DVD] [DISC ONLY] [1986]
11-year-old Lisa has no time for toys; she's too busy taking care of her siblings and cooking for her mother. During the Christmas Eve blizzard, Lisa travels to Toyland in Wizard of Oz-like fashion and arrives just in time for a wedding. Young Mary Contrary is about to marry mean, old Barnaby Barnacle, despite the fact that she loves Jack Be Nimble. Lisa tries to stop this terrible wedding and, together with her new friends, discovers that Barnaby wants to take over Toyland. Lisa, Mary, Jack, and Georgie Porgie ask the Toymaster for help, but he can't help them as long as Lisa doesn't truly believe in toys.
Product Details
Actor(s):  Drew Barrymore, Keanu Reeves, Pat Morita 

Writer(s):  Paul Zindel

Director(s):  Clive Donner
Format: DVD, Widescreen
Manufacturing Attributes:  Manufactured On Demand*
Language: English
Region: 0 (Worldwide)
Aspect Ratio:  1.78:1 (16:9 SD-Standard Definition 480p)
Color:  Color (SD)
Runtime:  1 hr and 35 mins (95 mins USA)
Sound Mix:  Dolby Digital 2.1

Number of discs: 1
Rated:  G

Studio:  Orion Pictures

Release Date:  December 19, 1986
 PLEASE NOTE:  This item is not an official studio release, as normally found in big box stores or mass merchant retailers.  

*When sold by Seaview Square Cinema, this product will be manufactured on demand, at the time of your order, using the highest of quality DVD-R/+R, DVD-R/+R DL, or BD-R/XL recordable media. Seaview Square Cinema's standard return/exchange policy will apply.
This product was added to our catalog on Monday, September 5, 2022
---
我們也推薦
---