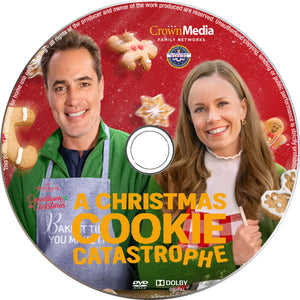 A Christmas Cookie Catastrophe [DVD] [DISC ONLY] [2022]
Annie Cooper has big shoes to fill when she takes over as CEO of her late grandmother's small-town cookie company and is doing her best to help their struggling business get back on track. That task gets more daunting when her grandmother's secret recipe is stolen during the Christmas party. As Annie tries to crack the case and uncover the culprit she works with Sam, the owner of a local bakery, to recreate the recipe in the hope of saving the company and her job. As Annie and Sam bake batch after batch in pursuit of the perfect one, they begin to learn that their lives go together like milk and cookies.
Product Details
Actor(s):  Rachel Boston, Victor Webster
Writer(s):  Robin Gadsby

Director(s):  Jeff Beesley

Format: DVD, Widescreen
Manufacturing Attributes:  Manufactured On Demand*
Language: English
Region: 0 (Worldwide)
Aspect Ratio:  1.78:1 (16:9 SD-Standard Definition 480p)
Color:  Color (SD)
Runtime:  1 hour and 24 minutes (84 mins USA)
Sound Mix:  2.1 Dolby Digital Surround Sound
Number of discs: 1
Rated:  NR

Studio:  Hallmark

Release Date:  November 27, 2022
 PLEASE NOTE:  This item is not an official studio release, as normally found in big box stores or mass merchant retailers, and therefore MAY include broadcast station watermark or other pertinent pop-up/scrolling station information pertaining to the actual broadcast station program was originally intended to be shown on. 
*When sold by Seaview Square Cinema, this product will be manufactured on demand, at the time of your order, using the highest of quality DVD-R/+R, DVD-R/+R DL, or BD-R/XL recordable media. Seaview Square Cinema's standard return/exchange policy will apply.
This product was added to our catalog on Thursday, November 24, 2022
---
我們也推薦
---