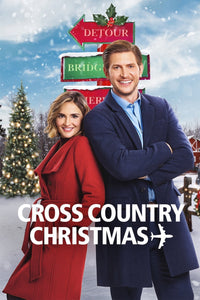 Cross Country Christmas [Blu-ray] [DVD] [2020]
Snowstorm threatens both Lina's and Max' holiday plans. They are forced to work together to figure out a way home - without taking it out on each other.
Product Details
Actor(s):  Rachael Leigh Cook, Greyston Holt, Jon Cor 
Writer(s):  Kirsten Hansen
Director(s): Catherine Cyran
Format: Multiple, Commercial Free, Widescreen
Language: English
Region: 0 (Worldwide)
Aspect Ratio:  Blu-ray Format - 1.78:1 (16:9 HD-High Definition 720p)/DVD Format - 1.78:1 (16:9 SD-Standard Definition 480p)
Color:  Color (HD) (SD)
Runtime:  1 hr and 23 mins (83 mins USA)
Sound Mix:  5.1 Dolby Digital Surround Sound
Number of discs: 1
Rated:  TV-G
Studio:  Hallmark
Release Date: December 20, 2020
PLEASE NOTE:  This is a SCREENER that was originally intended for members of the press, theater and media for private screening purposes and therefore WILL include our cinema's own watermark warning and MAY include broadcast station watermark or other pertinent pop-up/scrolling station information pertaining to the actual broadcast station program was originally intended to be shown on. 
This product was added to our catalog on Saturday, January 23, 2021
---
我們也推薦
---